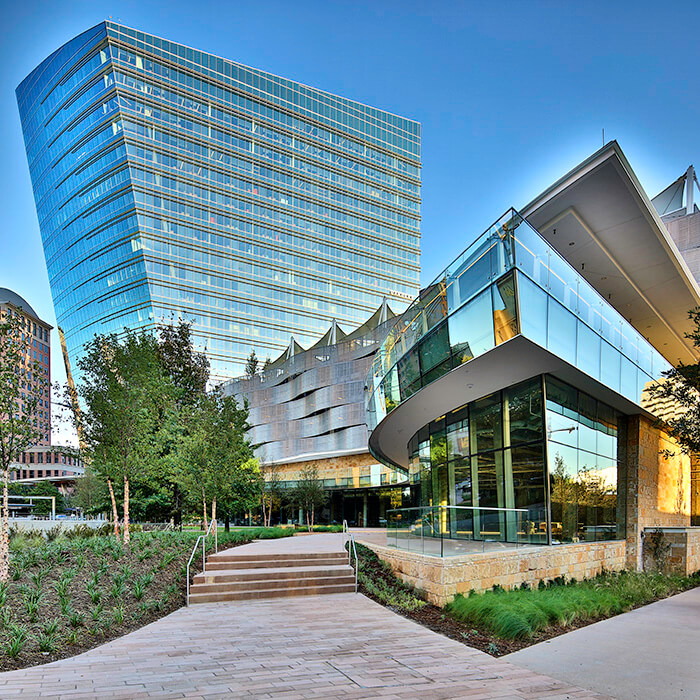 Location: Dallas, TX
Floors: 21
Area: 530,000 sq. ft.
LEED: Gold
Completed: 2016
Project Manager: Marvin Leach, P.E.
McKinney & Olive is a one-of-a-kind, designed by world-renowned architect Cesar Pelli and owned by Crescent Real Estate, offering world-class architecture, premier office space and exclusive restaurant and retail in the vibrant, pedestrian-oriented neighborhood of Uptown Dallas.McKinney & Olive includes the latest building innovation and technology. McKinney & Olive operates at the highest level of efficiency and sustainability. As with all of Crescent's properties, we are focused on providing a green building environment for our customers and demonstrating our commitment as stewards of the environment within the commercial real estate market. Factors such as building automation systems, lighting controls, comprehensive green cleaning and recycling programs are just a few examples of McKinney & Olive's sustainability practices that contribute to a significant decrease in the overall energy consumption of the earth's resources by reducing energy use, conserving water, minimizing waste, reducing CO2 emissions, recycling materials and improving indoor quality of property environments.